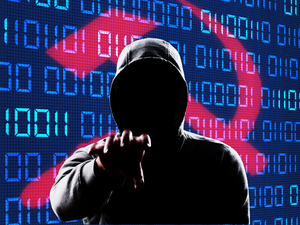 If you're like us, you've been avidly keeping up with the current appalling situation in Ukraine. Amid Russia's physical threats like armed drones and other high-tech weapons, another devastating threat potentially looms large.
Cyberwar is a real threat impacting private sector businesses today. That is why on Tuesday, the FBI released an advisory warning U.S. businesses to "remain vigilant and be on the lookout for possible increases in malicious cyber activity."
Now more than ever companies need to stay on guard for possible cyberattacks and put their technology 'shields up' to protect themselves from hackers.
As we all continue to pray for the safety of those in Ukraine, we also need to do our part to keep our businesses safe from cyberattacks and the digital war that is constantly waged between the darkest corners of the internet and innocent, unsuspecting, and successful small and medium-sized businesses.
Is Your Business Prepared For Russian Cyberattacks?
If you lose access to your company's data, do you have a simple but effective disaster recovery plan in place to help you recover your business data quickly?
Are your backups configured properly and regularly tested to ensure you can be back up and running in the case of ransomware?
Are your company's data backup and recovery solutions also backed up to the cloud so your company's data can be restored fast in the event of a data-erasing disaster?
In short, are you prepared for the potential impact the war in Ukraine could have on your business technology here in the United States?
If you don't have a plan in place now, we recommend you start by assembling an Emergency-Preparedness Team to identify the most probable cyber threats and all potential outcomes.
We are living in a technological age the likes of which the world has never seen before. With these technological advancements come new threats that can affect every single business across the globe.
What are you doing NOW to get your defenses up for the cyber threats that could potentially derail your business for good?
The recent FBI advisory says Russian hackers have scanned a minimum of five U.S. critical infrastructure companies that if incapacitated "would have a debilitating effect on security, national economic security, national public health or safety, or any combination thereof."
This is just further evidence that Russia could be planning to unleash cyberattacks against U.S. infrastructure that will undoubtedly affect Austin and San Antonio businesses. Prepare for a cyberattack now before you suffer a data breach.
"A critical moment to accelerate our work to improve domestic cybersecurity and bolster our national resilience." – President Biden
21 Things Businesses Should Do Now To Prepare For Russian Cyberattacks
Right now, EVERY business owner should be disaster planning and thinking about:
Making an inventory of all company devices
Having a Disaster Recovery Plan
Making sure your patches are up to date
Getting a cyber security risk assessment by a qualified third-party
Enabling two-factor authentication (2FA) to access your network
Getting an anti-virus with advanced security
Checking if all your computers are fully encrypted
Having adequate threat monitoring in place
Checking if your firewall security settings are configured correctly
Using a password manager to create unique passwords for every site
Using zero-trust cyber security solutions like application control and whitelisting
Getting email filtering with advanced threat protection
Employee Security Awareness Training
24/7 live threat monitoring by a Managed Security Service Provider (MSSP)
Enabling Secure Access Service Edge (SASE) for your remote access solution
Checking if your WiFi is configured properly and managed by an IT professional
Isolating IoT devices from your company's main network
Getting Mobile Device Management (MDM)
Implementing a Mobile Device Policy that requires STRONG passwords and passcodes
Getting a redundant on-site and cloud-based backup solution
Talking to your Cyber Security Services Provider about your risk
Related: Top 5 Essential Cybersecurity Tips For Your Employees
Phishing attacks are now the number one cause of ransomware. You must be extra diligent in fighting cyberattacks and preventing a company data breach. Assess ALL emails carefully for phishing attacks and make sure ALL employees are kept up to date on the situation.
If you haven't been providing extensive AND ongoing cybersecurity awareness training for your employees, NOW is the time to start. Your employees need to know how to spot a phishing email so they can do their part in preventing ransomware and protecting sensitive company information.
While this situation could prove very dangerous to businesses all over the world, it is simply an added threat on top of the thousands of threats unleashed by cybercriminals targeting businesses just like yours every single day.
"Knowledge itself is power."—Sir Francis Bacon
To stay safe from not just potential cyberthreats from Russia but all potential cybercrime, fortify your organization's I.T. network from data breaches with the help of an experienced and knowledgeable I.T. support and I.T. services provider and be sure you and your employees are kept informed to help significantly lower the possibility of a successful cyberattack that could lead to avoidable extended downtime due to ransomware, viruses, and other malware.
You simply cannot afford the repercussions of a successful and costly data breach and there is absolutely no doubt that this terrible situation will be grossly exploited by many cybercriminals. Amidst tragedy, there are always those that will seek to capitalize off others and we must do our best to STOP those despicable criminals in their tracks.
Need Help Assessing Your Company's Cyber Security Risk?
If your business is in the Austin or San Antonio metro areas with 50 or more computers and you need help assessing how exposed your business data is to hackers, then call us and we can help your organization uncover where you need to beef up security in your business's I.T. network.
FREE Cybersecurity Risk Assessment reveals where your business is at high risk to cyberattacks, call us at (210) 245-6900 or go online to https://www.juerntech.com/cyberaudit/
Juern Technology is a managed I.T. services provider delivering I.T. Support, I.T. Services, and Cyber Security to businesses in Austin and San Antonio, TX. Specializing in helping businesses prevent ransomware, extended downtime, and data loss.